Giustra Fellowship a 'Life-Changing' Experience for Central African Analyst
February 27, 2019
A few years ago – after I'd sat on the board of the International Crisis Group for more than a decade – I decided I wanted to do more in the realm of conflict prevention. The deadly conflicts continually erupting and flaring up around the world are the main driver of the global refugee and migration crisis. If we could find a way to calm even some of the tensions and resolve some of the conflicts, imagine how many people's lives could potentially be saved and how many people could potentially stay in their homes. 
So in 2016, I gave $1 million to establish a fellowship program that allows promising young analysts to receive mentorship and training in Crisis Group's methods of research and analysis. A key requirement is that candidates must come from the region they will be covering, allowing them to contribute a valuable point of view.
Tanda Theophilus, born and raised in Cameroon, was awarded one of these fellowships and spent a year working in his home country. In January, he wrote me a heartfelt letter of thanks, which said, in part: "My stay in Crisis Group has been a life-changing experience as it has given me a strong basis for a humanitarian and conflict mitigation career."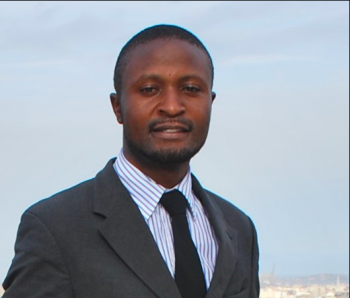 Tanda received coaching and mentorship from Crisis Group's Central Africa Project Director and Senior Analyst. He helped write reports and commentaries that made a notable impact. I am so incredibly proud knowing what a difference he has made, and knowing there are several other bright, young analysts who have been – and will be – given the same opportunity.
The Giustra Foundation spoke to Tanda recently to learn more about the issues facing Cameroon, his work and his outlook for the future of his country. Here is a condensed version of that conversation: 
Q. What is the key conflict facing Cameroon? 
A. In Cameroon, you have several regions that are affected by conflicts. You have the far north region that is affected by Boko Haram terrorism that started in Nigeria years ago. 
You have the East Region, which is affected by conflict from the Central African Republic where rebels from time to time get into the east region and Adamawa Region to attack. You have the Adamawa Region in Cameroon – also one in Nigeria – constantly attacked by hostage takers. Then you have the northwest and the southwest, which are predominantly English-speaking regions, that have been in a crisis since 2016 – which turned into a conflict by 2017. 
The main issue there is in 2016, English-speaking lawyers, teachers and members of the civil society came up with a number of grievances that they expected the government to address. And the government reacted with a heavy military crackdown and that sparked violence and it has continued until today.
Q. How does being from Cameroon help with your work? 
A. There is something that most institutions that are studying the conflict – and even the government – have failed to understand about this conflict. It is something that has been built over time.
Since we were small, it is put in your head – that anglophones are marginalized. Sometimes you don't even know based on what, you don't have any concrete evidence, you just know anglophones are marginalized and anglophones are preparing to gain their independence and it will happen. 
It became a cultural thing built over time, which is not easy. You can't use weapons to deconstruct that. You must use other methods. 
Q. Is there hope for the future?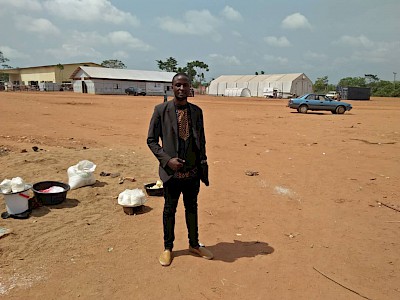 A. It's usually said that as long as there is life, there is hope. But scientifically speaking, the situation is rather worsening. 
Although as it is worsening, it is increasingly like a forgotten or almost forgotten conflict. Because compared to the beginning, it's like the media is drifting away from this particular conflict and only returns to it each time there is a spectacular incident like massive kidnappings, whereas people are killed every day. I mean every day, people are killed and the media doesn't even talk about it. 
So it is actually getting worse, especially considering that the parties involved ... the government and the separatist groups – they are not ready for sincere dialogue. They have conditions they don't want to change. 
Q. How did the Giustra Fellowship prepare you for your current job with the United Nations Office for the Coordination of Humanitarian Affairs. 
A. The Giustra Fellowship I would say is what opened the door for me to be able to get on to the humanitarian path. While I was there I was trained in advocacy, writing better, communication skills. I was trained in research. 
I got the experience of understanding what exactly are the humanitarian fallouts of conflict and how are the people suffering and what should be brought up as a solution to alleviate the suffering of the people and that is how I went from there to advocacy for better treatment of victims of the conflict in Cameroon. So it prepared me. 
Q. What impact do you think your work with ICG had on your country?
A. It had a really notable impact. In addition to the call for religious authorities to facilitate [dialogue], which they obviously tried to, you had other issues that were addressed – or the government attempted to address because of the pressure that we were putting on. 
One of them is releasing a few anglophone prisoners, another is launching the humanitarian response plan. 
And I think that our advocacy and reports helped to publicize the conflict more, and in that way, pushed many international humanitarian institutions to rush into Cameroon to the rescue of those who were victims of the conflict. 
Q. How does it make you feel to know you are making an impact? 
It makes me feel relieved. I hope to do more. I hope to have a greater impact. It makes me satisfied. That is what makes me happy.