Lessons from The Prophet
February 19, 2020
"Love knows not its own depth until the hour of separation" Kahlil Gibran, The Prophet.

I collect books on almost every topic. One of my favourite books is "The Prophet", by Kahlil Gibran. I have a rare first edition copy signed by the author and dated 1923, the year it was published. I have now read it three times including as recently as a few weeks ago and it still moves me much in the same way it did when I first read it.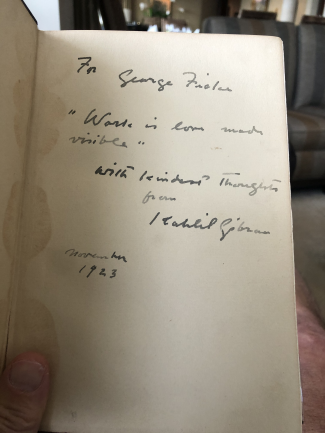 The book is made up of 26 prose poems, delivered as sermons by a wise man called Al Mustapha. He is about to set sail for his homeland after 12 years in exile on a fictional island, when the people of the island ask him to share his wisdom on the big questions of life: Love, family, work and death. Over the years, the book has sold millions of copies and has been translated into over 100 different languages, making it one of the most translated books in history. And for good reason; it's messages are simply beautiful. It's a must read for everyone. Today's millennials - who aren't known to read books any longer - should find it an easy read, at only 107 pages with big print. A two hour commitment, max!

The first few pages of the book have always had the most profound impact on me and somehow take my breath away every time. He is awaiting a ship to take him to his homeland. This is likely a metaphor as he awaits his imminent death. In the opening pages, he is contemplating how to say goodbye.

"The sea that calls all things unto her, calls me and I must embark."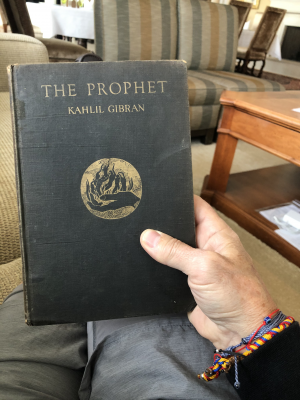 Though born a Maronite (Eastern Catholic), Gibran was influenced not only by his own religion but also by Islam. His knowledge of Lebanon's bloody history, with its destructive sectarian struggles, strengthened his belief in the fundamental unity of all religions. He was a Christian but he saw things being done in the name of Christianity which he could not accept, such as the oppression of women. He also called for freedom from the Muslim Ottoman Empire.
 
Gibran was heavily influenced by Bahá'u'llá  (the founder of The Bahá'í Faith), who he met in 1912. The faith teaches the essential worth of all religions, and the unity and equality of all people. It's a dogma-free universal spiritualism that is available to anyone, whether Christian, Jew or Muslim.  The literary elite in the west ridiculed the book when it first came out and he took a lot of heat from the Arab world. But the book stood the test of time. The fact that it has been read by so many over the past 100 years has to say something about some of its central messages about life, love, passion and pain. These are things we all share, regardless of our religion. In a world where sectarian strife and divisive politics based on religious boundaries are on the rise everywhere, it's a prescient message.

Perhaps we should print several million more copies of Gibran's book.

Here are a few more of my favourite quotes from "The Prophet".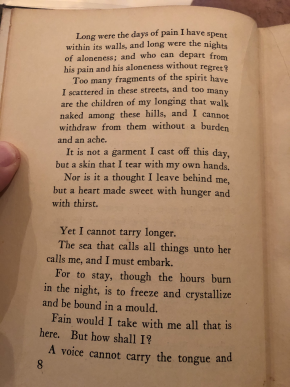 "You give but little when you give of your possessions.
It is when you give of yourself that you truly give." 

"Love one another, but make not a bond of love:
Let it rather be a moving sea between the shores of your souls." 

"Say not, 'I have found the truth', but rather, 'I have found a truth.'"

"Your children are not your children. They are the sons and daughters of Life's longing for itself." 

"To belittle, you have to be little." 

"I love you when you bow in your mosque, kneel in your temple, pray in your church. For you and I are sons of one religion, and it is the spirit."

"Beauty is eternity gazing at itself in a mirror.
But you are eternity and you are the mirror."