Everest Gardening: Fresh Salad at 13,000 Feet
January 03, 2019
Food has never been the main attraction – or even a side attraction – of my trekking adventures. It has been primarily an inconvenient necessity. Consisting largely of rice, beans, and other equally uninteresting forms of sustenance, there is little to excite my senses. And without fresh vegetables, herbs, oils and garlic, it all starts to taste the same after a day or two.
But mountain adventures are not about the food. They are about fulfilling ambitions, testing both your physical and mental limits, and maybe learning something new about yourself. Sometimes, too, there's a lesson in there about horticulture.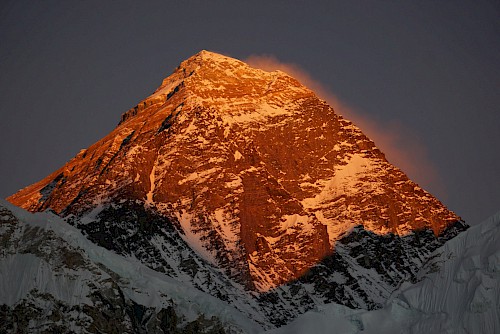 Last year, I trekked with a group of friends to Everest base camp for our second high-altitude adventure. Two years earlier, we summited Kilimanjaro at 19,300 feet in just five days. Everest base camp was not as challenging as Kilimanjaro. At 17,500 feet it was 2,000 feet lower than Kilimanjaro and not nearly as steep a climb. We did the walk in five days, at a leisurely pace. 
There was also more to see on the Everest walk. Kilimanjaro was mostly bare rocks, while the Everest views were filled with snowy peaks and tiny villages. On Kilimanjaro we slept in tents. During the Everest trip, we slept in small lodges and visited cultural sites along the way, including a monastery where we were blessed by a Nepalese monk. 
Finally, there was the food. And the unexpected gardens. During our Kilimanjaro trek, our daily sustenance consisted of the aforementioned rice and beans and a lot of ginger tea. For our Everest trip, we had a much wider – albeit lacking in colour – variety of food. There was a Mexican-inspired meal, lots of potatoes and French fries, processed mystery meats, soups, and at one point, yak cheese (which is nothing like Asiago or Parmesan, by the way).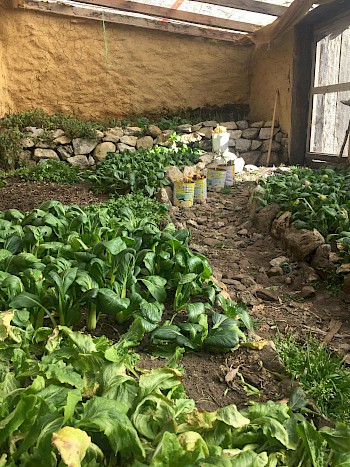 But the food took a surprising turn when we reached the house of our lead guide, Ang Temba Sherpa. Temba had summited Everest once and would have attempted it again had he not promised his mother he would never go back after she found out he had gone up the first time. He and his wife, Yangzee, live at 13,100 feet in the village of Pangboche, on the trail to Mount Everest. Once we had taken off our boots and settled in for a rest, Yangzee made us a delicious dinner – the most memorable parts of which were the vegetable side dishes and a fresh salad.
The Sherpas in the area can normally grow only potatoes. They live in the midst of the most spectacular high mountain scenery in the world, referring to the Khumbu Valley as "beyul," which means "blessed sanctuary." But it is a hardscrabble life high in the Himalayas. The Sherpa people must travel throughout the year to survive – in the monsoon season, when they can graze their yaks, they move up the valley. And in order to purchase rice, salt, spices and staples, they trek down the valley to the trading village of Namche Bazaar. Everything is carried by porters or on the back of yaks. There are no wheeled vehicles in the Khumbu, no bicycles or ox-drawn carts, no motor vehicles – the trails are too steep.
So in 2012 – lacking an alternative means to get fresh vegetables – Temba and his wife decided to build their own greenhouse. At 13,000 feet. Using stones and mud for walls, corrugated plastic and plastic sheeting for the roof, they crafted a utilitarian greenhouse. Now they are able to grow tomatoes, broccoli, mint, cucumber, squash, and lettuce throughout the year.
Temba and his wife are very proud of their greenhouse and gave me an extensive tour, describing each vegetable variety as if it were one of their children. We enjoyed a great evening at their lodge, which included a viewing of Everest memorabilia and photos they had collected over the years. But the best part was the meal and the 13,000-foot vegetables.