Lessons From the Mount
May 21, 2019
Three years ago, a group of friends and I summited Mt. Kilimanjaro (19,300 feet). We were guided by the legendary mountaineer, Wally Berg. Wally has summited almost every high peak on the planet, including four successful summits on Mt. Everest (29,000 feet). We chose the five day route on Kilimanjaro instead of the more popular nine day route, solely because we didn't want to live outdoors any longer than absolutely necessary. But that choice came with a price. I recounted the story to friends when we returned, telling them that it had been an incredible experience and we were glad we did it, but that we would never subject ourselves to that sort of pain again.
But time has a way of creating a selective memory and last year we were back at it, asking Wally to guide us to Mt.Everest base camp (17,500 feet). The trek was scenic and culturally fascinating, but we didn't feel it had sufficiently challenged us.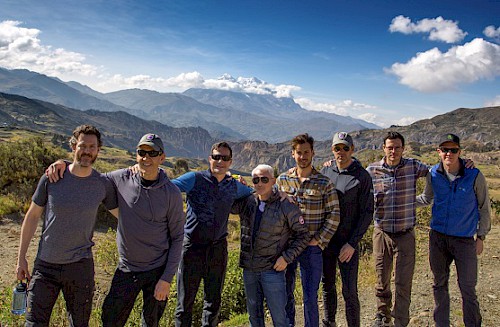 By this time, the memories of that last gruelling night on Kili had faded even further. So we asked Wally to propose a more challenging climb at a higher altitude. We considered Mt. Aconcagua (24,000 feet) in Argentina. It's that highest peak in the world outside the Himalayas. But given the length of that expedition, estimated at three to four weeks, Wally suggested another mountain which we could climb in a time frame that would suit our busy schedules. That is how we came to set our sights on Mt Illimani (21,000 feet) in Bolivia.
Not only was this summit 2000 feet higher than Kilimanjaro, it was to be a full blown expedition and quite technical at that. It would require the use of steel crampons on our extra sturdy hiking boots, ice axes, ropes and ascenders to help us navigate the steep areas of ice and snow. Wally warned us, this climb would be no Kilimanjaro.
Looking back on it now, I am not sure we heeded his warning.
Eight of us arrived in La Paz on May 8. La Paz is the highest capital in the world and has an interesting layout. The airport sits at 14,000 feet but you drive down to 12,500 feet to the centre of the city. We drove further down to Zona Sur at 11,000 feet where our hotel was located.
We spent the next few days in and around the city to get acclimated. Altitude has a profound negative effect on people which varies in it's severity from person to person. Spending a few days walking and hiking  between elevations of 11,000 to 14,000 feet is essential. We even experimented chewing on Coca leaves like many of the locals do. It's pretty much the same idea as drinking coffee in the morning.
At this point, our group was still very cheerful and enthusiastic. Some of us had trained for months to be sure we were in top physical shape. On the night prior to our departure to the mountain, we were enjoying what would be our last comfortable meal for the ensuing 5 days. We were taking turns peppering Wally with questions, that we probably should have asked before we booked the trip. I asked him how cold it would be at the summit peak (I really dislike cold weather). He replied that the current forecast predicted 15-20 degrees below with wind chill factor. I then asked him to describe the type of cold. Would it resemble Calgary cold or Montreal cold? His reply dampened my cheery mood. "It's a kind of cold you have never experienced before." As we walked to our rooms, my friend Tim could see the concerned look on my face. He tried to encourage me by reminding me of something we had both learned on Kilimanjaro: To just take one step at a time and not worry about the challenges that tomorrow will bring. His words kind of helped, I think.
We woke up early the next morn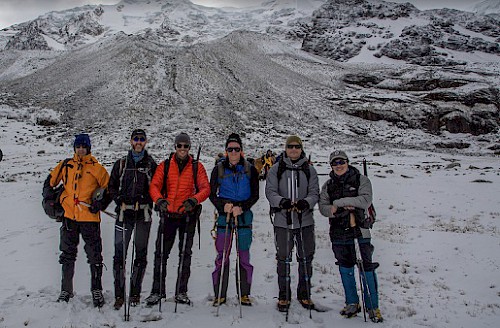 ing and packed our gear, leaving the non-essentials behind. Like a few of us in the group, my stomach was upset and I had a lingering headache. We loaded everything into several 4-wheel drives and began a 3-hour drive to the base of the mountain. As we got closer, the road turned into a narrow dirt path with very scary and deep ravines on my side of the vehicle. I didn't complain, but I was a bit anxious that our drivers were going a lot faster than I cared for. I comforted myself in the belief that they had made this trip dozens of times and knew what they were doing.
The vehicles took us as far as they could and when they could go no further, we put on our day packs and began a three hour walk to basecamp. A team of mules followed carrying the rest of our gear. The walk up was pleasant and everyone except Phil felt great. Phil was not adjusting well to the high altitude. Unlike most of us, this was his first experience at anything above 8,000 feet.
We arrived at base camp (15,000 feet) to a serene setting with a spectacular view of the summit peak and the city of La Paz. Our tented camp was almost completely surrounded by a herd of sheep and Llamas, tended to by a few local children and several dogs.
That evening we enjoyed a tasty light meal made by Wally's crew. The long drive, hike and higher altitude ensured there wouldn't be much after dinner chit chat, so we made our way to our tents. Phil's condition was getting progressively worse, but I assured him he would feel much better over the next few days. I have known him since high school and I know how physically tough he is.
Once the sun set, it became damp and very cold. We were each given a water bottle filled with hot water to place in our sleeping bags alongside any clothing we were planning to wear in the morning. The hot water made the world of difference and I managed to sleep intermittently throughout the night.
I woke to the sounds of someone being violently ill somewhere near my tent. I immediately thought it was Phil and started feeling bad about the reassurance I had given him earlier.
As we gathered, I learned that it had been Brian, not Phil, who was sick. Brian decided he would rest in his tent for the day as we made a four hour practice climb up to 16,300 feet. Phil was determined and came along but had to turn back halfway up. He was still not well. The hike up was uneventful and the only thing we needed to watch carefully were our steps. There were areas of loose shale which became even more treacherous when wet.
When we arriv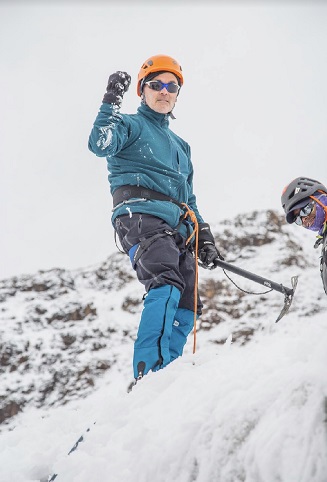 ed back at base camp, Brian had made up his mind. He had been ill all night long and didn't see how he could make the climb in his weakened condition.He was going to head back to La Paz. As I mentioned, high altitude can wreak havoc on your body. And it's not a question of your physical fitness. What happened to Brian could have happened to any one of us.
Once again, we had a light meal. One of the many symptoms of altitude is loss of appetite. By 7:30pm we decided there wasn't much to do but try and get some sleep.
We had just we settled into our tents when the rain began to fall. And then a thunderstorm came and went. For several minutes, I watched a very loud and bright light show right above my tent.  And then suddenly, it went very quiet. 
At 6:00am, I unzipped my tent entrance and I could feel it was heavy. When I opened it I saw that the rain had turned into snow. It was a very different scene than the previous day. I started to make my way towards the bathroom tent only to discover it had completely collapsed under the weight of the new snow. It was one of my first lessons on how mountaineers have to learn to "improvise".
The arrival of snow, meant we had to change our previous plan, which had called for us hike up to high camp (18,000feet ).We needed  additional time acclimating to altitude and the idea was to do a round trip back to base camp. However, the snow would make our pace too slow to make the trip before dark. Our new plan entailed hiking to a glacier at around the same altitude as the previous day and practice our rope and crampon skills. The morning brought good news. Phil was feeling much better, although he was telling us about some weird hallucinations he was having. He got our brief  attention when he complained about some dark, bizarre thoughts that he was finding impossible to shake off. We looked at each other and for a moment we considered taking away his ice axe. Also, we now had another casualty as Scott was feeling the adverse effects of altitude and he chose to rest at base camp for the day while we went up.
By this time, our summit guides had arrived. These were professionals who knew the mountain well. I think they took a look at our brand new gear and correctly determined that we were all rank amateurs. But they appeared patient and very understanding, prepared to assist in any way possible. When we arrived at the glacier, we put on our gear while the guides set the ropes on a short but steep wall of ice. I volunteered to go first (ego) and managed to get the hang of it on my second try. Climbing with this type of gear requires learning a sequence of steps. First you push the ascender as far up the rope as you can reach and lock it in. Then, with your left hand, you plant the ice axe firmly into the snow. Next, you kick the toes of your steel crampons and pull yourself up, and repeat. We practiced how to walk properly up and down various grades of incline, each requiring different methods. It didn't take us long to get it and I could see our guides accepting the adequacy of our skills.
When we got back to camp, Scott had also decided that he wasn't feeling well enough to continue and arranged to travel back to La Paz. It was hard to see him go but I completely understood. When you are staring at the the size of the mountain in front of you and your body is experiencing the equivalent of your worst hangover, it's hard to envision going further.
The next morning was to be the big day. We were to move to high camp, get a few hours sleep and make an attempt a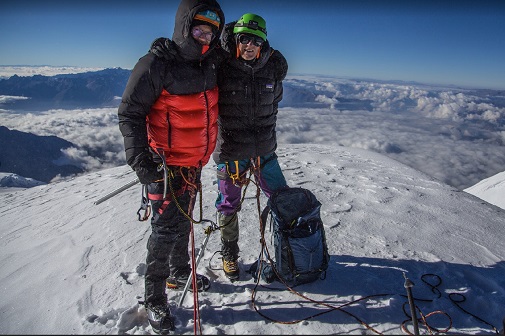 t summit at around 2 am. It was a glorious morning without a cloud in sight . The wind was strong at the mountain peak and I could see the fresh snow blowing against the backdrop of a clear blue sky.
And then in a flash, everything went wrong. I had just put on my boots and was leaving my tent when I slipped on the muddy ground. As I went down, I felt a sharp pain behind my left knee. My friends helped me stand up and the moment I tried to walk, I knew I was in trouble. My friend, Anthony, who trains Olympians and pro athletes checked out my injury. He didn't have to say a word as it was written on his face. I was done. There would be no summit attempt for me. I blurted out a few curse words, but my anger quickly gave way to devastation. It was all I could do to hold back the tears. I had spent months training. I was feeling strong and prepared. And to injure myself in such an inglorious manner only added to my  sadness and frustration. 
I bid my friends farewell and good luck and limped after them as they left camp; like a dog following his master when he leaves the house. I stood there watching them shrink and then eventually disappear into the contours of the mountain.
I spent the next few hours in a funk and feeling sorry for myself. I began pondering why I was so heartbroken. I eventually realized that it was all about my ego. It had been badly bruised. I had been robbed of the chance to claim victory. Wally walked into the mess tent and I began a conversation with him. I told him how I was feeling and he listened quietly. He then responded with with some words that truly resonated with me. He said, "Frank, egos come here to die. The mountains are sentinels - they just sit there and let us bang our heads against the wall."
W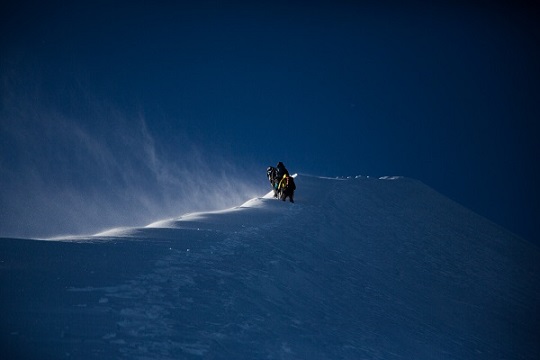 ally continued, "Everyone thinks the sole objective of mountain climbing is to succeed in summiting. But a lifetime of climbing has taught me it's much more than that. It's about the importance of teamwork and the friendships that you make along the way. It's about testing ourselves and above all, it's about being inspired by the power of nature."
These simple words changed my entire outlook. I felt at peace with the fact that I had  tried my best. The fact that it didn't go as planned was not the point. I immediately turned my attention to rooting for the remaining four members of our team. I wanted them to succeed.
Anthony, Phil, Zach and Tim did make a bid for the summit. (Our other member, Kyle, had predetermined that he would only go to high camp, due to a medical condition.)
Back in La Paz, I eagerly awaited the news. I received word mid-morning on May 15. Tim had made summit at 8.10am. Zach joined him half an hour later. Phil had to turn back because his feet were completely frozen to the point where he couldn't feel them. Anthony was 1000 feet away from the summit when he succumbed to the effects of high altitude. This particular news gave me pause about what my own chances of success might have been had I not injured myself. Anthony trains me and is one of the fittest people I know. 
When the team returned to La Paz, I heard from each of them about their individual experience. It had been brutal. It took six hours to summit from high camp, in the dark of night with heavy winds and deep, unstable snow. At one point the grade was 45-degrees and it was all they could do to remain standing. Tim and Zach described how freaky it had been to navigate a very narrow path with steep drop offs on each side. I must confess, hearing their stories almost made me feel relieved to have been injured.
When we left Bolivia, we were all at peace with our individual outcomes. It had truly been a great adventure, complete with twists and turns. I returned home happy and with a multitude of lessons from the mount.