How To Make A Healthy, Delicious Creamy Soup Without Cream
August 06, 2019
Cooking is an art and like any art form, it is subjective. There's no singular way of making any dish and it's up to the cook to decide what flavours and textures to include. To that end, many recipes in cookbooks don't need to be followed as closely as a rocket ship instruction manual. I get most enjoyment from cooking when I can be creative and I tend to treat recipes as mere guidelines.
I have favourite dishes that have evolved over the years as I try different ingredients or methods. Many of the recipes my mother made for us when we were growing up look and taste very different when I make them today. A good example is her eggplant parmigiana. Instead of the hard mozzarella cheese my mom used, i substitute it with burrata, which gives the dish almost a soufflé-like texture. I wanted to make her famous meatballs less dry, so I started adding tomato sauce to my meatball mix.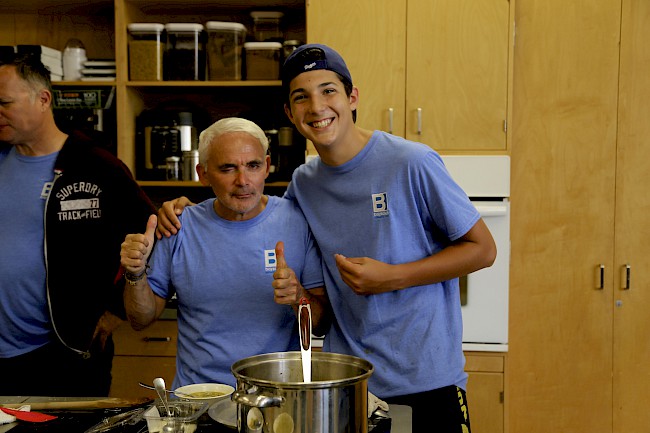 Tweaking recipes isn't always about taste. Sometimes I change a recipe out of necessity, like when I can't find a certain ingredient and need to find a substitute. The reasoning behind changing one of my favourite soup recipes also came about for an equally practical reason.  As my mother got into the later stages of her life she had a hard time eating the soup I made for her, which had been her favourite.
I came across this recipe ten years ago.  A friend of mine, Amed Khan, had been pestering me to visit a restaurant in Brooklyn on one of my frequent trips to New York. As my business usually kept me in midtown Manhattan, I felt it was too far a journey to make for yet another Italian restaurant. New York City is littered with excellent Italian eateries. But he persisted and I eventually gave in and trekked to Court Street in Brooklyn to see what this Frankie's Spuntino was all about. (I would later discover, this restaurant is frequented by many celebrities.) I was greeted by 2 Brooklyn-born Italians, named Frank Falcinelli and Frank Castronovo and we sat down for a truly fabulous meal. The philosophy behind their cooking style was simply to take the recipes they had watched  their Italian Grandma's make and "modernize " them to restaurant standards. The "Two Franks" are real characters; expressive, passionate and humorous. Their stories were all the more entertaining, given they are delivered with a Brooklyn accent. Think Anthony Scaramucci talking food instead of politics.
The two Franks and I became friends and even traveled to Italy on a food and olive oil tour. They invited me to be a partner in their Frankie's Restaurant West Village location. My name's Frank, after all. They make their own olive oil, Frankies 457 Spuntino Extra Virgin Olive Oil, which sells throughout the US. It's good, but as I often remind them, not nearly as good as my internationally celebrated, multiple gold-medal winning Domenica Fiore extra virgin olive oils.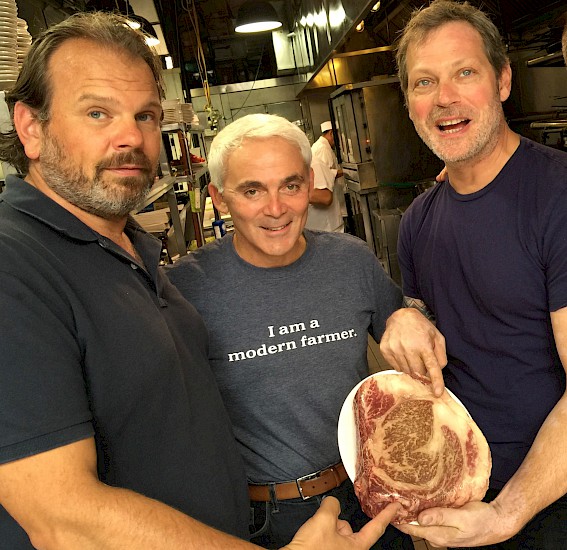 In 2010, the Two Franks published a cookbook, "The Frankie's Spuntino kitchen companion & cooking manual". Obviously, I received a copy and found some great recipes that I use often. But the Escarole and Cannellini Bean Soup recipe is the one I come back to time and time again. It is absolutely delicious and easy to make. 
My dinner guests love it and no one loved it more than my mother. For me, the highlight of family meals was to watch my mom take her first spoonful and look for that nod of approval. She would look at me and say " e buono ". I think you need to be a son of Italian descent to truly appreciate the importance of that kind of approval. I used to make a big batch of that soup on weekends, put it into small containers and deliver them to her so that she could enjoy it during the week. For a long time, it's pretty much all she ate.
But in her later years she had difficulty eating the soup. The cannellini beans, carrots and escarole do call for some chewing. So I decided to put it in a blender to make it smooth. This is where necessity forced me to change a recipe. The added bonus was that I found that blending the soup gave it a better flavour and my family agreed.  After making it this way a few times I thought it would be nice if it were creamier, so I added potatoes, yams and turnips. The result was a delicious, vegan soup with a creamy texture and a gentle kick. It's now my favourite soup and I love that I made it my own.
Try this recipe as originally written by the Two Franks and then try it with my adaptation. Also, if you're rushed you can use other greens like bok choy instead of escarole and just put into the soup without the extra step it takes to cook it. If you choose this approach, it's best to blend the soup. Cooking the escarole separately allows it to keep its colour. Lastly, remember to finish the soup with Domenica Fiore olive oil and grated Pecorino cheese just before serving.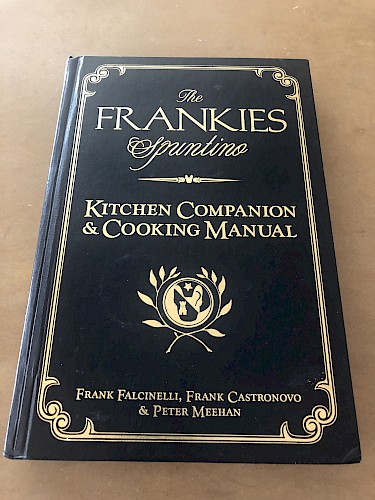 Escarole & Cannellini Bean Soup
Serves 6
Ingredients
•    2 cups dried cannellini beans
•    ¼ cup Domenica Fiore olive oil, plus extra for finishing
•    1 medium onion, finely chopped
•    1 stalk celery, finely chopped
•    1 small carrot, finely chopped
•    Fine sea salt
•    Freshly ground white pepper
•    Red pepper flakes
•    8 cups vegetable broth
•    1 bay leaf
•    2 gloves garlic, cut lengthwise in half 
•    1 or 2 heads escarole, cut into 1-inch pieces (3 to 4 cups)
•    ½ cup grated Pecorino Romano cheese
Method:
Put the beans in a bowl, cover with water, and soak for at least 8 hours or as long as overnight, replacing the water once or twice during the soak. Drain and pick over the beans for stones or pebbles before cooking them. 
Heat 2 tablespoons of the olive oil in a wide deep soup pot (an enameled Dutch oven is perfect) over medium heat. After a minute, add the onion, celery, and carrot, and season them with pinches of salt, a few turns of white pepper, and red pepper flakes to taste. Sauté the aromatics, stirring regularly, until the onion in going golden, the celery is translucent, and the carrot is softened, 12 to 15 minutes.
Add the beans, broth, and bay leaf to the pot and bring to a boil, then reduce the heat so the beans simmer gently. Cook for 2 hours or until they're soft but not disintegrating. (At this point, you could cool the beans in their cooking liquid and refrigerate them for a day or two or freeze them for up to a month.)
Meanwhile, heat the remaining 2 tablespoons olive oil in an 8-inch sauté pan over low heat. After a minute, add the garlic and cook it slowly for 8 to 10 minutes, until it has gone a pale gold and is sweetly aromatic, maybe starting to brown the tiniest bit around the edges. 
When the garlic is good to go, turn the heat to medium-heat and add a pinch of red pepper flakes. Cook for 30 seconds, then add the escarole, piling it as high as it needs to go. Add a large pinch of salt and a few turns of white pepper and toss to coat the escarole in some of the oil in the pan. Cover the pan and cook for 4 minutes.
Remove the lid and toss the escarole again. It should be wilted and greener than it was when it started, and the water and oil should have melded together into a nice, juicy pan sauce. Add the escarole to the beans. 
Serve the soup hot or chill it and ladle it out cold. Finish each bowl with a splash of olive oil, a few turns of white pepper, a couple of tablespoons of grated cheese, regardless of the temperature. (That said, if you're eating it cold, chopped parsley, added in abundance, is very good for it.)
My adaptation:
Follow the above directions, adding 1 small white potato, 1 small yam and 1 small turnip, all roughly chopped at step 2, along with the celery and carrot. Then blend the soup in batches until smooth and creamy after step 6, being careful not to fill the blender too full.
I'll be curious to hear which method you prefer. I know what my mother would choose. Buon appetito!