My Secret Recipe for Eggplant Parmigiana
January 23, 2019
I can't believe I'm about to do this. But here goes. I am going to share with you the up-until-now secret recipe for my signature dish: eggplant parmigiana.
The recipe is a variation of what was originally shared with me by my mother, who was – in my mind at least – the best cook on the planet. Over the past 25 years, I refined and improved upon her original recipe, to the point where she even conceded that my version "surpassed" hers. Her words.
This recipe has even been the headline act at a local charity event. We raised $250,000 for the BC Cancer Foundation by inviting 90 people for a sit-down dinner featuring my favourite recipes. The eggplant was the main course. It's that good.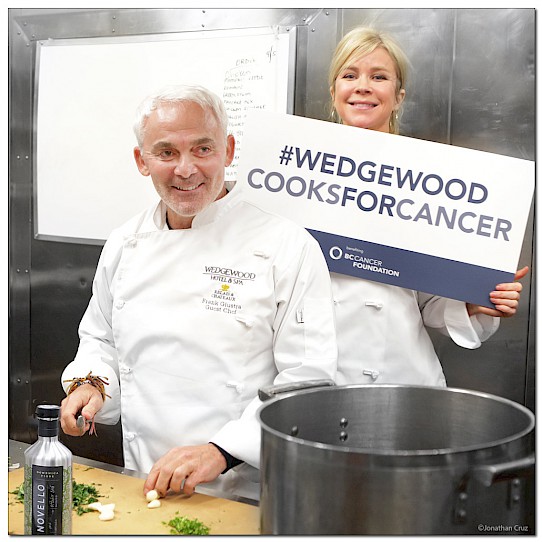 I have travelled the world and whenever I see eggplant parmigiana on a restaurant menu, I sample it. So far, nothing comes close.
You'll notice I have not included quantities in this recipe. I apologize. But measuring cups and teaspoons were rarely used in my mother's kitchen, which means I tend to avoid them as well. The only advice I can give is: Use as much of each ingredient as makes sense. Embrace the process of winging it. And, every great dish starts with great ingredients.
EGGPLANT PARMIGIANA
Eggplant 
Fine Bread crumbs 
Flour
Egg
Canned San Marzano tomatoes from Italy
Fresh basil
Red chilli flakes
Garlic
Burrata (can be substituted with Buffalo Mozarella)
Grated Pecorino cheese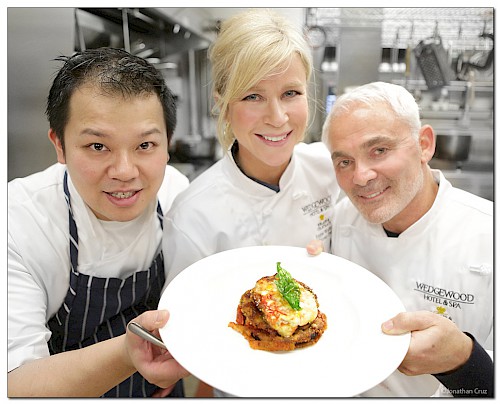 Directions:
• Cut eggplant crosswise into round slices, ¼-inch thick.
• Place single pieces on a cutting board, sprinkle with salt and layer a paper towel on top. Continue to stack layers of eggplant covered with salt and paper towel until done.
• Fill a big pot with water (or use another heavy weight) and place on top of the eggplant slices. Leave for 30 minutes or until the bitter juices have soaked through the paper towel. This is one important step most people skip and it makes a big difference in the flavour. 
• While the eggplant slices sit, start the sauce. Sauté thinly-sliced garlic and red chilli flakes in Domenica Fiore extra virgin olive oil. Add canned tomatoes, fresh basil, salt and pepper to taste.
• Let sauce simmer on medium-low heat for one hour.
• Prepare your station with three separate ingredients you will need to coat the eggplant slices:  Flour. Two eggs beaten, with water added, so it's not too thick. And fine bread crumbs.  
• One piece at a time, coat the slices first with flour, then dip in egg mixture (careful to let excess egg drip off), then coat in bread crumbs. This is a tedious process and the part I hate the most.
• In a large pan, fry the coated eggplant, until golden brown. Use a light oil. (I use grapeseed oil, as it's light and has no flavour.)
• Place the fried eggplant pieces on paper towels to soak up the excess oil.
• In a baking dish, apply a little sauce at the bottom, then create individual serving pieces.
• Start with an eggplant slice, just enough burrata to cover the center of the slice (you don't want it dripping out the sides of each stack), cover the burrata with a small amount of sauce. Repeat twice more, so there are three layers.
• Finish by sprinkling a generous amount of pecorino cheese on top of the final layer of sauce.
Bake for 25 minutes at 350 degrees.