My New Favourite Pasta Recipe
May 28, 2019
Famed Italian director Federico Fellini once wrote, "Life is a combination of magic and pasta." I couldn't agree more. I live my life with passion and I do love my pasta. Eating pasta on a regular basis was just part of life growing up in an Italian family. I loved my mom's pasta dishes, especially her lasagna which my siblings and I (and many friends) still consider world class. I started cooking in my early 20's and liked to show off my culinary skills with a very basic spaghetti and tomato sauce with basil. It wasn't particularly fancy, but  it managed to compete quite favourably with the Kraft Dinners and Hamburger Helper meals my friends would serve up. I have tasted almost every pasta sauce imaginable in restaurants around the world and from the dozens of cookbooks I have collected throughout my life. So I was surprised to come across something new that also managed to blow me away.  That's why I feel duty bound to share this new discovery.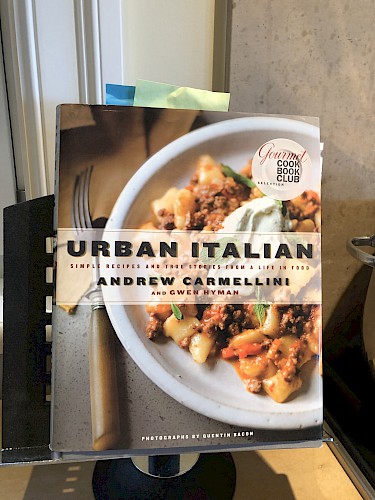 Many of the dozens of cookbooks on my shelves have been gifts from friends and acquaintances. For some reason, it's the first thing that comes to mind when people who know me are struggling to find a gift. It's that or gourmet gift baskets. People know I love food. (Hey guys, I also love sports cars.) Occasionally, I pick a random book off the shelf and leaf through it to see if anything catches my eye. And that's how I found one of the tastiest pasta recipes ever.
The book is titled "Urban Italian" by Andrew Carmellini and Gwen Hyman. It contains a number of recipes that I enjoy and now serve to my guests on a regular basis, including a Rigatoni Pugliese (made with rabe broccoli and spicy Italian sausage) which is my second favourite recipe from this book. It's great but it doesn't come close to the Linguini with Broccoli Rabe Pesto, Oregano and Peppers. 
I recall when I made this dish for the first time. I felt like I had discovered a gold mine and eagerly invited groups of friends and family over to give it a try. It was a hit and is so good, I now freeze it in portion size freezer packs so I can make it for my kids' lunches. My son requests it on a regular basis.
Pesto sauce can be made from a variety of key ingredients, the most popular being fresh basil. This recipe calls for the use of leaves from the broccoli rabe, which makes a world of difference. It's important to use the best quality olive oil since it's such a big part of the pesto sauce flavour. Naturally, I use my own Domenica Fiore brand, which is world class. The colour of the resulting sauce is a deep emerald green which contrasts beautifully in flavour and presentation when it's topped off with red and yellow roasted peppers. This recipe somehow tastes more satisfying than other pasta recipes I have tasted and it's 100% vegetarian. The author describes the key feature "....The real challenge is hitting a balance so the flavours and textures pop up but also have some depth, dimension, and -  that elusive thing in vegetarian cooking – mouth feel. This is one meaty meat-free dish."
Give this recipe a try. It does take more time than others. Hand picking the leaves from the broccoli stems and breaking off the buds is a bit tedious. It also requires some effort to make the oven roasted peppers, but it's all well worth the effort.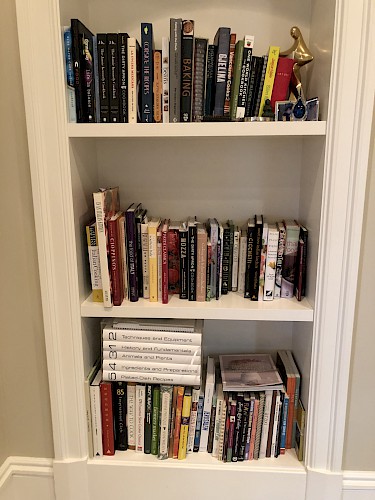 Lastly, if you are out there, I wish to acknowledge whomever "AH" is. You inscribed the inside cover of this cookbook back in 2011. My belated gratitude.
Linguine with Broccoli Rabe Pesto, Oregano and Peppers
Adopted from Andrew Carmellini's Urban Italian

1 pound dried linguine
1 bunch broccoli rabe
1/2 cup best quality extra virgin olive oil (plus extra for finishing)
1/4 cup pine nuts
1/2 teaspoon salt
2 tablespoons grated Parmigiano-Reggiano
2 garlic cloves, sliced as thin as you can manage
1/4 teaspoon red pepper flakes
1/2 cup grated Parmigiano-Reggiano
1 tablespoon fresh oregano leaves, chopped
3 roasted peppers (see directions below), any colors you like
2 tablespoons panko breadcrumbs
Preheat your oven to broil. Slice the peppers in half lengthwise and pull out the seeds, stem and white pith. Put the peppers in a bowl and toss them with a drizzle of olive oil, as well as some salt and pepper to season. Lay the peppers skin side up on a rimmed cookie sheet and broil for 10 minutes, until the skins are black and blistering.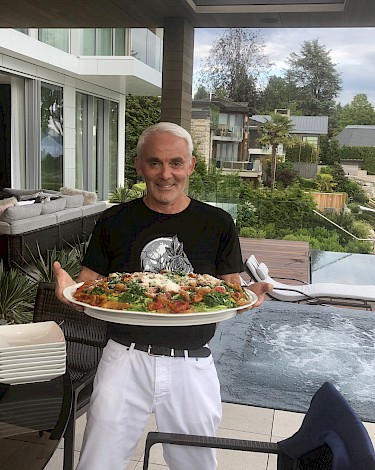 Flip the peppers over and continue to roast for another 10 minutes. Remove to a bowl and cover with plastic wrap to let them steam and cool for about 20 minutes. When cool enough to handle you should be able to slip their skins off pretty easily. Chop them into strips and set aside.
For the pesto, bring a medium sized pot of water to a boil while you remove the leaves from the broccoli rabe from the stems. Set the leaves aside, then trim the broccoli rabe stems to 2 to 3 inches below the florets and cut the stems in thirds.
Get another pot of salted water boiling so you're ready when it's time to cook the pasta noodles.
Blanch the stems and florets in the boiling water for about 30 seconds, then remove to ice water to stop them from cooking, but keep the water boiling (use a slotted spoon). Next blanch the leaves in the same water for about 1 to 1.5 minutes, until they're tender. Remove the leaves and run under cold water. Then use your hands to squeeze out as much excess water from the leaves as possible.
In a blender, combine the 1/2 cup olive oil with the leaves and give it a whiz until it's the consistency of a smooth paste, about 30 seconds. Add 1/2 cup water and blend again until everything is completely puréed, 30 more seconds. Add the pine nuts and blend until smooth, then add the salt and cheese and blend again until everything comes together.
Cook the pasta according to package directions, minus 1 minute.
While the pasta is cooking, heat the 2 tablespoons of olive oil in a large pot then brown the garlic slightly until fragrant. Add the waiting broccoli stems and florets, as well as the red pepper flakes and toss to combine. Remove the pan from the heat and toss in the linguine and pesto. Add the 1/2 cup grated cheese and fresh oregano and toss again. Crown with strips of the roasted peppers and serve.
https://www.amazon.com/Urban-Italian-Simple-Recipes-Stories/dp/159691470X