Harvest Time in Orvieto
October 14, 2022
It's the most wonderful time of the year. And I don't mean with the kids jingle belling. I'm referring to the annual olive oil harvest at our Domenica Fiore olive oil estate in Orvieto, Italy. Ask anyone who knows me, I get teenaged girl giddy in the run up to this trip. I was there recently for our famous night harvest. We've been doing this event for a few years, and it never disappoints.

As in the past, we invited a few friends to celebrate with us. I relish knowing in advance what a treat they are in for. The experience, the sunsets, the local food, drizzled with freshly pressed olive oil, is all just incredible. Days after they depart Italy, I continue to receive text messages with glowing praise and subtle hints about next years' invites.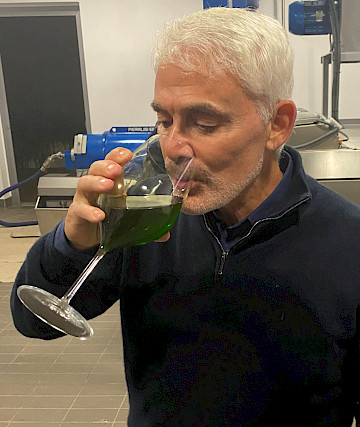 I get so many requests for invites that I have decided to turn the Fiore estate into a destination. We are currently under construction on a spectacular villa overlooking our olive trees, mill and the most stunning sunsets you will ever see. It will be open in the summer of 2024. 

This year's harvest experience did not only include participating in the night harvest celebration, which happened over a delicious meal served by local chefs, restaurant owners and brothers, Michele and Andrea of Seven Restaurant Cafe, but also a money-can't-buy-white-truffle hunting afternoon. After swearing a blood-oath, the brothers took us to a secret location and with their truffle-hunting dog, Argo in the lead, we headed into the forest. It was a fascinating experience to watch as Argo ran back and forth and in circles, obeying Michele's orders. The moment Argo started digging, Michele would move the dog aside and start digging with his own hands.

I have never seen a man bury his nose in dirt so purposefully, but Michele did it with the same enthusiasm Argo or any dog would do.

We found four white truffles in the few hours we were in the forest, worth around €500 worth in Italy and God knows how much in North America. Our find made for an extraordinary meal the next night. Every dish was made with truffle; from the scrambled eggs, to the pasta, the beef filet, and a carpaccio like I have never tasted before. It was made fresh in front of us with thinly sliced tenderloin cooked only with lemon. It was finished with parmigiana cheese, shaved white truffle and Domenica Fiore olive oil that had been pressed only one hour prior to our meal. No chewing required, it literally melted in your mouth like butter.

2022's olive oil harvest is literally a miracle. Italy experienced the worst drought in 500 years this past summer. Things looked bleak at the beginning of September. But then the skies opened up and we got two weeks of welcomed rain, not only saving our crop, but also making a significant impact on the final product for both our Novello and our Novelllo di Notte olive oils, which will surely define the 2022 vintage.

Consider the fresh scent of the morning air immediately after it has rained, when the air is fresh and the aromas of the vegetation around you are heightened. With this oil, you will experience exactly that. Novello 2022 is boldly grassy and herbaceous. It is a harmonious oil with a notable flavor of mint, which grows wild across the Domenica Fiore estate. It is gentle on the palate to start with a strong finish that is representative of Domenica Fiore early season olive oils.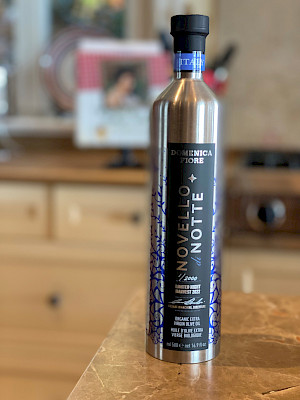 My personal favourite is the Novello di Notte. It is Domenica Fiore's early season super premium extra virgin olive oil. Harvested in late September under the cover of nighttime skies to protect the fruit from oxidation, the result is a rich green extra virgin olive oil with bold grassy flavors and which is extremely high in polyphenols.  A superior and elegant olive oil unlike anything else in the world.  When first pressed, the colour is such a beautiful green emerald that it almost looks fake. But I can assure you it's real. 

We only produce a very limited 2000 bottles of Novello di Notte, all numbered and signed by our Oil Master, Cesare Bianchini. I carried bottles one through four back to Canada with me.  (After all, I do own the place.)
 
I am home now and enjoying my first bottle of olive oil with my family who have been waiting eagerly for my return. Every bite of food drizzled with our oil brings back memories of the land I love so much.
Until next year.
 
Pre-order your Novello di Notte and Novello olive oils today and experience the rebirth of harvest 2022.