VIDEO: Inside My Heart and the Global Refugee Crisis
December 05, 2018
In 2015, I stood on a beach in Greece helping terrified and near-frozen refugees as they lurched out of a flimsy plastic boat filled with water. For them, this moment was one more step away from a devastating conflict that had ripped apart their world.
For me, it was a life changing experience that profoundly affected how I spend both my time and my money.
There are more than 22.5 million refugees in the world today and that number grows every hour. The majority are women and children fleeing unimaginable tragedy. Their journeys are horrific and many are forced to confront extreme danger and live in destitute conditions during their long search for safety.
Far too many die before they find it.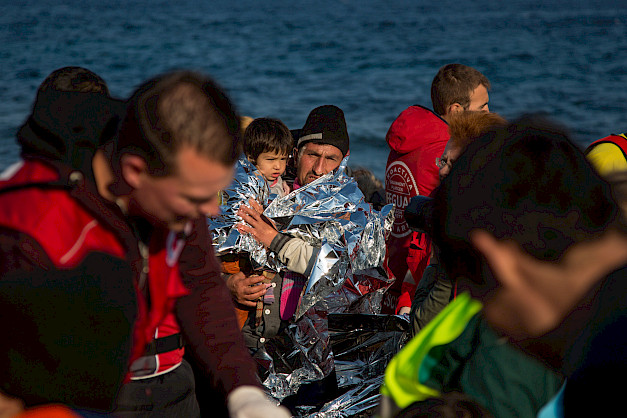 Since that night in Greece, I have been pursuing a strategy of bringing together business, government, philanthropists and ordinary citizens to create rapid responses to this crisis. One of these – the Global Refugee Sponsorship Initiative – is a partnership between my foundation and the Government of Canada, UNHCR, open society foundations and the University of Ottawa.
Our mission is to encourage other countries to adopt Canada's innovative model that allows groups of ordinary citizens to support a refugee family and mentor them in their new country.
These very different institutions are working together with the common goal of spreading Canada's successful program to other countries.
More than 300,000 refugees have been sponsored to Canada since 1979, and more than two million Canadians have become involved as sponsors in the past two years alone. These refugees integrate more quickly than others and frequently form life-long connections that benefit both them and those that welcome them.
Imagine how many lives could be saved and communities transformed if this program existed all over the world?
The Global Refugee Sponsorship Initiative is helping launch new sponsorship initiatives in Britain, Argentina and New Zealand. We are also working with Ireland and Germany to design pilot programs and are encouraging government and community interest in more than 20 other countries.
Entrepreneurial and collaborative methods
I am investing in this work because I believe that sponsorship is a deeply effective way of leveraging the time, resources, creativity and compassion of individual citizens. Given the scale of the challenges we face, we urgently need to find ways to benefit from these contributions.
We also need to effectively mobilize the private sector. Traditional institutions have not responded well to the current crisis and there is a lot of finger pointing and avoidance of responsibility. Meanwhile, co-ordinated action and concrete solutions are absent or far too slow. We need private-sector ideas and strategic leadership, as much as we need its resources and investments.
My approach to working on refugee issues has been informed by the same entrepreneurial and collaborative methods that have been successful in my for-profit businesses.
For example, I have worked with a variety of public and private stakeholders to build both a reception centre and a housing facility in Greece; and to establish a consortium of private-sector actors committed to developing innovative solutions for displaced people and vulnerable Greek locals. All of these projects have responded to concrete needs in nimble and direct ways.
As the scale and complexity of the refugee crisis increases, we need more actors from all parts of society to contribute their time, resources and expertise. Unfortunately, only a tiny minority are currently engaged.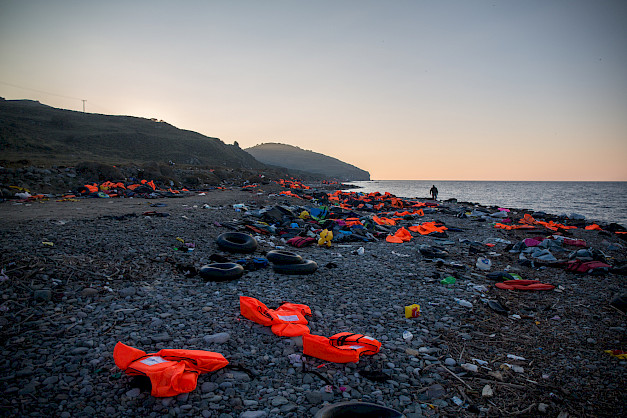 We can change this. Anyone who was in my shoes the night those boats arrived in Greece would be motivated to help, but most people don't react to problems they don't see or can't understand.
This is why I have invited my friends and other business people to travel with me to Greece – so that they can see what is happening for themselves and then figure out how they can best contribute to a response. The majority of people who have travelled with me are now also working on refugee-related projects.
The need to expose more people to the human side of the refugee crisis is also why I produced Inside my Heart, a documentary film that follows three refugee families as they search for safety.
I hope this film will motivate Canadians, Britons and all others in countries with new sponsorship programs to welcome more refugees into their communities.
I hope it will encourage governments to open more resettlement pathways and reject a pull toward negative and harmful political rhetoric.
I hope it will catalyze the private sector to bring its many strengths and resources to these issues.
And, most of all, I hope that it reminds us all that each of the world's 22.5 million refugees is a human being with a story – with an urgent need for our support.
(Published April 30, 2018 in The Globe and Mail.) 
Watch the Trailer to the documentary Inside My Heart