Feeding Venezuelan Refugees in Colombia
July 24, 2019
As with most everyone I know, I have never experienced hunger. I can't imagine what it must feel like for a parent to see their child suffer from malnutrition. I try to picture my own children in that state and find it unimaginable. It would be devastating. Picturing my own kids suffering has always been the catalyst that has motivated me to act. It's for this reason that I immersed myself in the Syrian refugee crisis starting in 2015. Witnessing women and children arriving cold and scared on the shores of Lesvos quite literally broke my heart. It's also why I have campaigned personally and through my involvement with the International Crisis Group to bring an end to the conflict in Yemen. Approximately 10 million Yemenis don't get enough to eat on a daily basis and almost one quarter of a million are starving. The most heartbreaking numbers involve children. 85,000 have died from extreme hunger and approximately 360,000 children under five-years-old are suffering from severe acute malnutrition. It's for this reason that I recently turned my attention to the Venezuelan refugee crisis in Colombia.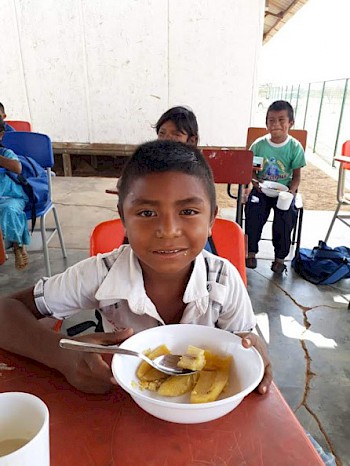 Two decades ago, I spent a considerable amount of time doing business in Venezuela and toured the country extensively. I remember a beautiful and geographically diverse country. Angel Falls was one of the most spectacular sights I have ever seen and I have fond memories of fishing in the waters around Los Roques Islands. I met many wonderful people who celebrated life in a way only Latin Americans know how. So it breaks my heart to now see the country in such despair. Later I would turn my attention to Colombia, where I have not only conducted business, but also a fair bit of philanthropy and even some vacationing. Colombia is one of my favourite countries in the world. I truly love the people there. The current refugee crisis is hurting both countries and fuelling my desire to act.
Venezuela has been in political and economic turmoil for a number of years but has gotten progressively worse over the past two years. Nearly 90 percent of Venezuelan families do not earn enough money to buy the food they need due to hyperinflation and domestic food shortages, leaving many families no choice but to flee Venezuela. As a result, almost 4 million have fled the country with approximately 1.3 million of them resettling in Colombia. Thousands are still crossing the border each day. It's one of the biggest and most rapid flows of persons globally. This flow of refugees is putting an enormous strain on local shelters and host communities in Colombia. As the crisis continues to worsen, women and children are arriving at border locations malnourished and in dire need of assistance. The problem is that fresh food is scarce to the organizations serving this population. As I watched this tragedy unfold, it occurred to me that one of my philanthropic initiatives might provide part of the solution.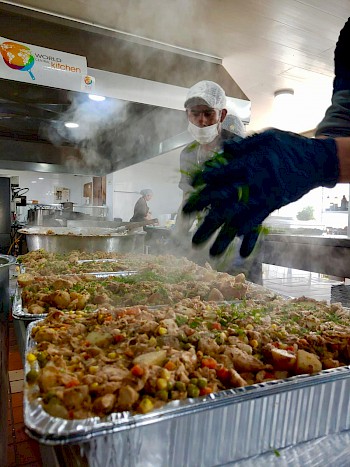 Acceso Colombia is just one of the social agribusinesses that grew out of the poverty alleviation initiative I co-founded with President Clinton and Fundación Carlos Slim in 2007. Launched in 2015, Acceso Colombia was designed to improve yields and incomes of 1,200 smallholder farmers and fishers by providing training, access to inputs (seeds and fertilizer), and most importantly, guaranteed connections to high value, stable buyers such as Colombia's largest grocery chain. It also created 90 jobs at the business and processing level. Our goal is to become the largest and premier smallholder sourcing agribusiness in Colombia.
I asked our team if we could become the urgently needed source of fresh food for Venezuelan refugees and they quickly sprang into action.
Since we already had access to the produce and the ability to deliver large quantities, I offered to personally fund the purchase of produce - everything from potatoes to pears - from Acceso and donate it to two organizations, World Central Kitchen founded by Chef José Andrés and the Colombian food bank network ABACO who are operating 45 kitchens in four towns on the Colombian/Venezuelan borders. With my $100,000 donation, we have provided the ingredients for 1.6 million meals since launching the program last April. That's a whopping 150,000 kilograms of produce. It's been a win-win for everyone. Our smallholder farmers will see an increase in revenues of more than $70,000 in that same time period. I recently extended my commitment for an additional $100,000 to see us through three more months, at which point we will have helped generate a total of 3 million meals.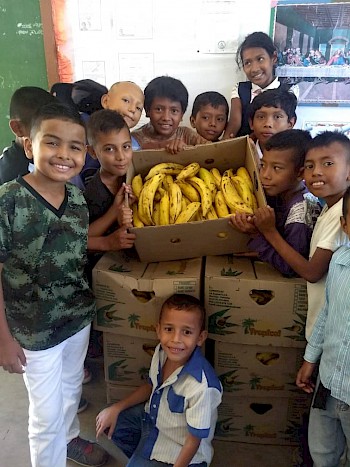 This program has been so successful that we are now looking for ways to not only extend it past October, but also expand it to other areas in Colombia and within Venezuela. I will be looking for funding partners and may even run a campaign to make this program truly significant. I will have more to report on that in the near future.
I always try to put these kinds of commitments and results into context. Consider that for $200,000 - an amount of money that some wealthy person might spend on a luxury car - we will have helped feed hundreds of thousands of refugees (most of them women and children) over a six month time frame. Sometimes I wish more people with the means would stop and picture their own families going hungry. Experiencing that level of clarity might cause them to lend a helping hand. If you are such a person, contact us. 
In the meantime, I am more than happy to support this cause.
Fore more information or to discuss partnership opportunities, please contact Alethia Kang, Associate Director of Business Development, CGEP akang@clintonfoundation.org.
For more information about CGEP, visit http://cgepartnership.com/ 
For more information about our partners World Central Kitchen and ABACO, visit https://wck.org/ and https://www.bancosdealimentosdecolombia.com/